What I learned in 2011:
1- Just because someone says they're your friend, doesn't mean they will act like your friend when you need one.
2- Life can be very, very hard, but it can also be amazing.
3- A partner in life is more important than most anything else when you share your life.
4- A book like Hunger Games, The Bronze Horseman, or Lola and the Boy Next Door can be therapy and change you.
5- Setting goals is good, meeting goals is even better.
Hopes for 2012:
1- To read at least 25 books.
2- Finish my NaNo '10 "Thorns"
3- Go gluten-free and feel better.
4- Get another story published.
5- Survive the six months without my husband.
Best books I read in 2011:
1- Lola and the Boy Next Door by Stephanie Perkins
2- Mockingjay by Suzanne Collins
3- Memoirs of a Teenage Amnesiac by Gabrielle Zevin
4- Forever by Maggie Stiefvater
5- The Bronze Horseman by Paullina Simmons
What am I most looking forward to in 2012:
1- New Maggie Stiefvater books! MagicNovel and Requiem!
2- The last book of the Hex Hall trilogy!
3- Hunger Games, Bel Ami, Snow White and the Huntsman, Cosmopolis, Breaking Dawn Part Two, The Hobbit, On The Road, and The Bronze Horseman all becoming motion pictures!
4- My husband graduating boot camp and tech school so he can have steady work and feel good about himself while helping our family!
5- Traveling!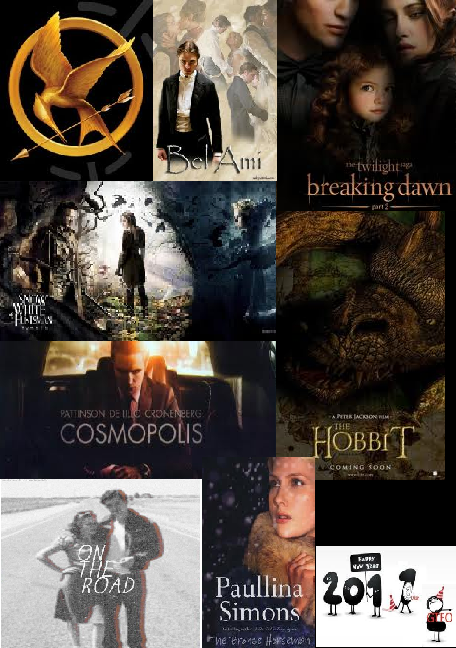 Things I'm most proud of myself for achieving in 2011:
1- Reading over my 50 book goal for the year.
2- Getting my story published.
3- Working hard at my marriage and staying healthy.
4- Maintaining my blogs and bunny drabbles.
5- Donating to charities and using my writing for good (rather than evil!).
What are you looking forward to this year? What did you love about 2011? Any good books on your radar?